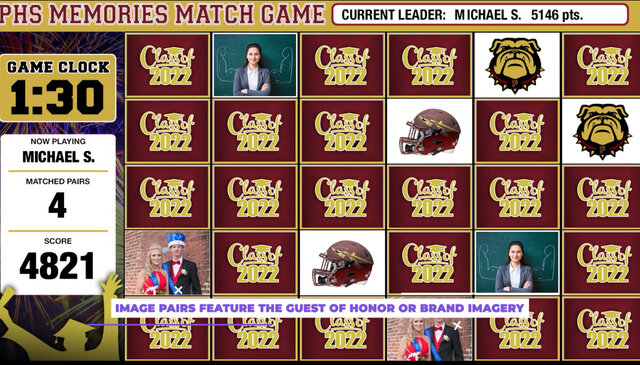 Major Minds Interactive Match Game
Weddings

Need a unique way to entertain your guests during your wedding reception? Look no further than Major Minds interactive game! Not only is it fun and engaging, but it can also be a great icebreaker for guests who may not know each other well.
Major Minds is more than just a fun way to pass the time. It can also be customized to fit the theme of your wedding. For example, if you're having a beach wedding, the cards could feature images of seashells, starfish, and sandcastles. Many couples use images that are important to their relationship to totally customize the game for the wedding.
Not only will your guests love playing the game, but they'll also appreciate the thought and effort you put into making your wedding day unique and memorable. So why not add an interactive memory match game to your wedding reception? It's sure to be a hit with guests of all ages!
Fundraising
Are you looking for a fun and engaging way to raise funds for your organization or cause? Look no further than our Major Minds interactive game!
This classic game is perfect for all ages and can be customized with your branding and messaging. Participants have a blast playing in-person and it quickly draws a crowd. A donation amount can be set for each round as well as offer prizes for top scores or fastest completion times.
The game can be promoted through social media, email newsletters, and other channels to reach a wide audience. You can also partner with other organizations or businesses to sponsor the game and increase visibility and donations.
Not only is an interactive memory match game a fun way to engage donors and supporters, but it's also a great way to collect valuable data and insights. You can track player activity and use the data to improve your fundraising strategy and outreach efforts.
So what are you waiting for? Reserve the Major Minds interactive game today and watch the donations roll in!
Brand Activations
Are you looking for a fun and engaging way to increase brand awareness and engagement? You have found it in Major Minds interactive game! Now imagine your logo or sponsor logos on each one of the tiles.
This is gamification to the max and a sure way to have guests, customers and attendees interacting with your brand!
Add lead capture and this becomes a perfect tool for exhibitors and retail locations to engage foot traffic and generate leads.
Major Minds is a classic favorite that appeal to people of all ages. By creating a custom game that incorporates your brand's logo, colors, and messaging, you can increase brand recognition and foster a positive association with your brand.
Take your brand activation to the next level with an interactive game that allows players to earn points and compete with others on a leaderboard. Create engagement by encouraging sharing on social media by offering incentives or prizes to top players.
By incorporating your brand's message and values into the game, you can create a unique and memorable experience that resonates with your target audience. Plus, with the ability to collect data on player behavior and preferences, you can gain valuable insights into your audience and tailor future marketing efforts accordingly.
Add Major Minds to boost your brand activation efforts. It will be the fun and effective tool that takes your brand to the next level.