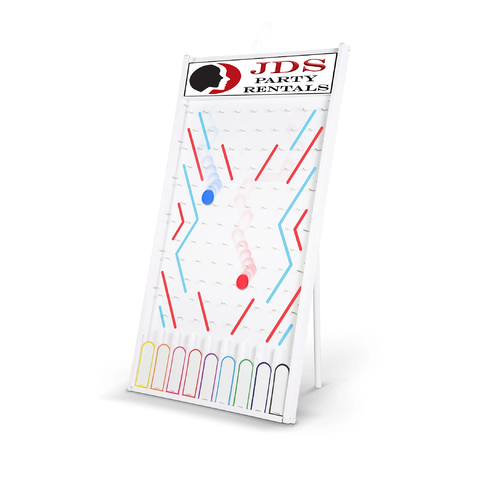 Plinko / Disc Drop
Plinko game can add a lot of fun to an event and be a valuable tool for fundraising. Plinko is a popular game inspired by the classic "The Price Is Right" TV show, and it involves dropping a disc down a vertical board filled with pegs, which direct the disc's path until it lands in one of several slots at the bottom. Here's how a Plinko game can contribute to event enjoyment and fundraising:
Engagement: Plinko is a visually engaging and interactive game. It attracts attendees' attention and encourages them to participate, creating a lively and dynamic atmosphere at the event.

Entertainment: The anticipation of the disc's path as it bounces off pegs and lands in a slot adds an element of suspense and excitement. It keeps participants entertained and coming back for more attempts.

Variety of Prizes: Plinko allows for different prize tiers based on where the disc lands. You can offer a range of prizes, from small tokens to larger rewards, creating an element of surprise for participants.

Fundraising Mechanism: Plinko can be used as a fundraising tool. Participants can pay for the chance to play the game, with the proceeds going toward the event's fundraising goals. The opportunity to win prizes provides an incentive for people to make a contribution.

Customization: Plinko boards can be customized to match the theme of the event or promote sponsors. You can have the event's logo or branding incorporated into the design, which can enhance the overall event experience.

Raffle Integration: Plinko can be integrated with a raffle or auction system. For example, participants may receive raffle tickets based on their Plinko results or as part of their entry fee, increasing the potential for fundraising.

Appeal to All Ages: Plinko is a game that appeals to a wide range of age groups, from children to adults. This inclusivity can boost event attendance and participation.

Social Interaction: Plinko encourages social interaction as participants often gather around the game to watch and cheer for each other. It provides opportunities for networking and socializing.

Marketing and Promotion: The Plinko game can be used as a marketing tool to draw attention to your event. Promote the game on social media or through event advertising, creating buzz and interest in your fundraiser.

Trackable Results: Plinko allows you to track the number of participants, their contributions, and the prizes distributed. This data can be valuable for evaluating the success of your fundraising efforts.

Enhanced Donor Engagement: The game can serve as a fun way to engage donors and supporters, giving them a tangible connection to the fundraising process and an enjoyable experience to remember.
Incorporating a Plinko game into your event can enhance the overall experience, increase attendee engagement, and contribute to your fundraising efforts. It's an entertaining and interactive way to generate funds while fostering a sense of community and excitement among your event attendees.