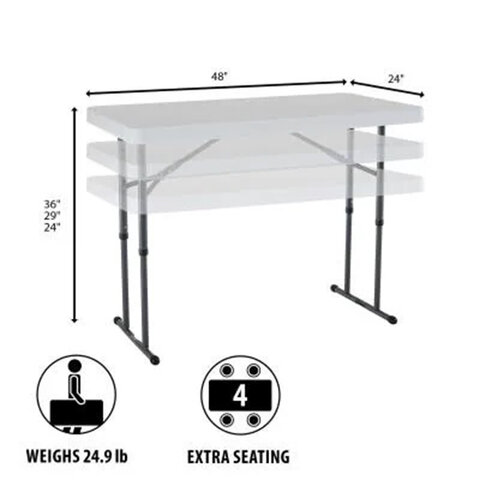 4ft Adjustable Height Table
4ft Adjustable Height Rectangle Table
Introducing our versatile 4ft adjustable height table, perfect for any occasion! This table is designed to meet all your needs, whether you're hosting a party, setting up a booth at a trade show, or simply need an extra workspace.
The table features a sturdy steel frame and legs that can be adjusted to three different heights (22", 29", and 36"), allowing you to customize it to your specific needs. The tabletop is made of high-density polyethylene, which is both durable and easy to clean.
The 4ft size is perfect for smaller spaces, yet still provides ample room for seating or displaying items. The table is also lightweight and easy to transport, with a convenient carrying handle built into the frame.
Overall, our 4ft adjustable height table is a versatile and practical addition to any home or business. Its durability, adjustability, and portability make it a great rental that you'll use time and time again.