Your Guide to Tent Rentals for Every Event
When planning an outdoor event in the Detroit area, the tent often serves as the cornerstone that brings everything together. Whether it's a corporate event, a family reunion, or a romantic wedding, the right
tent rental
can make or break the occasion. In this comprehensive guide, we'll explore the various types of events that benefit from tent rentals and offer tips for choosing the perfect tent for your event.
Types of Events That Benefit from Tent Rentals
Weddings: Wedding tent rentals are more than just a trend; they're a necessity for outdoor ceremonies and receptions. They offer a blank canvas that can be decorated to match any theme or color scheme. The beauty of a
wedding tent rental
is its versatility. Whether you're going for a rustic, bohemian, or classic look, wedding tent rentals provide the perfect backdrop for your special day. Moreover, wedding tents can be equipped with flooring, chandeliers, and even climate control systems to ensure your guests are comfortable throughout the event. The high peak tents are particularly popular for weddings, offering an elegant and airy atmosphere that can be adorned with fairy lights or floral arrangements.
Corporate Event Tent Rental:
Corporate gatherings range from trade shows and expos to company picnics and team-building retreats. A professional-looking tent rental can provide a comfortable setting for networking and business transactions. Corporate events often require different setups, including stages, podiums, and audio-visual equipment. A spacious tent can accommodate all these needs while providing a professional atmosphere. Frame tent rentals are often used for corporate events due to their sturdiness and ability to span large areas without internal poles, offering unobstructed views for presentations or performances.
Family Reunion Tent Rental
: Family reunions are all about togetherness, and what better way to bring everyone together than under a large
canopy tent rental
? These tents can accommodate multiple tables and chairs, making them ideal for family gatherings in and around Detroit. When it comes to family reunions, the more, the merrier, and a large tent ensures that everyone has a place to sit, eat, and catch up. Pole tents, with their classic peaks and valleys, are often used for such casual events, providing both shade and a communal atmosphere.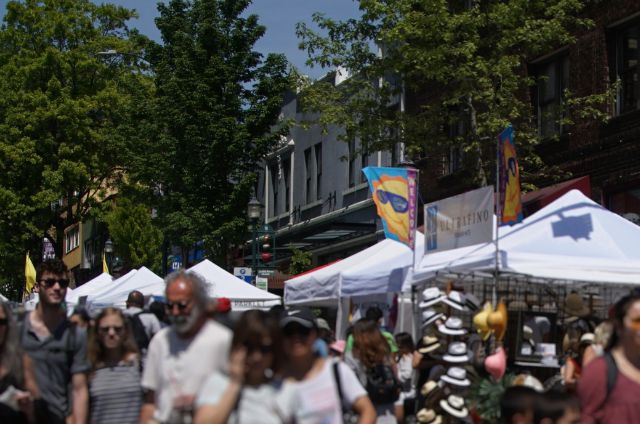 Concerts and Festival Tent Rental: Organizing a festival or concert in Detroit involves a lot of moving parts, and tents are no exception. Large, durable tents are essential for housing stages, food vendors, and merchandise booths. The logistics of organizing a festival or concert are complex, and the right tent can simplify at least one aspect of it. Additionally, specialized tent rentals with soundproofing can be used for stages, enhancing the acoustics and overall experience for attendees.

Sporting Event Tent Rental: Sporting events like local football games or Detroit Lions tailgates also benefit from tent rentals. A tent provides a communal space for fans to gather, celebrate, and even take shelter from unexpected weather conditions. Tailgating is a beloved tradition, and a sturdy tent can protect your grill, your drinks, and your friends from whatever weather comes your way. High-quality tents can also feature built-in pockets and loops for hanging team banners or flags, adding an extra layer of fan spirit to the event.
Community Street Fair Tent Rental
: Community events like fairs and markets often feature a variety of vendors, each needing their own space. Individual tents can serve as pop-up shops, allowing vendors to showcase their goods and services in an organized manner. These tents can also be customized with signage or banners to help vendors stand out in a crowded marketplace, attracting more visitors to their booths.
Weather Considerations for Tent Rentals
When planning an outdoor event in Michigan, it's crucial to prepare for the state's unpredictable weather conditions. Whether you're dealing with the sweltering heat of summer or the chilly winds of fall, the right tent rental can offer much-needed protection against the elements.
Rain: Nobody wants their special day to be a washout. Many of our
Detroit
area customers add our tent sidewall rentals to their rental to provide extra protection against rain. Some tents even feature built-in gutter systems to channel water away from the interior, keeping your guests dry and comfortable.
Wind: A windy day can turn a beautiful event into a chaotic mess. Heavy-duty stakes and weights can secure your tent in place, preventing it from becoming a giant sail. It's also a good idea to opt for tents made from durable materials that can withstand strong winds.
Heat: Michigan summers can get hot, and a tent can quickly turn into a sauna if you're not careful. Ventilation is key. Look for tents with removable sidewalls or mesh windows that allow for better airflow. Be sure to have a snow cone machine handy to keep cool!
Cold: If you're hosting an event during the colder months, tent sidewalls are key to keep the warmth in. Be sure to have your coffee or cocoa near by so you can enjoy a drink to warm you up!
By taking these weather considerations into account, you can ensure that your event goes off without a hitch, come rain or shine.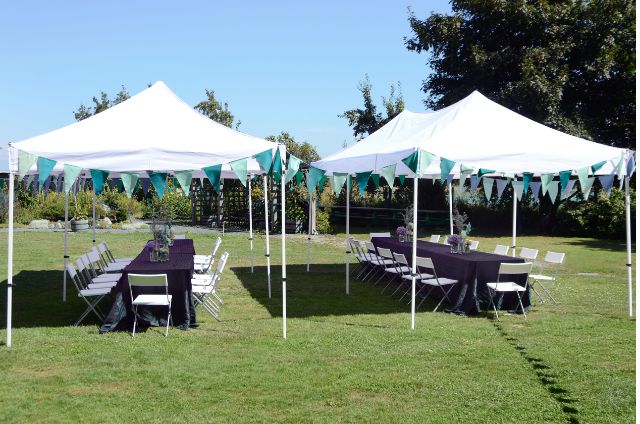 Additional Party Rentals to Consider
Your tent rental is just the beginning. To create a truly memorable event, consider additional rentals like tables, chairs, lighting, and even a dance floor. These items not only provide functionality but also contribute to the overall aesthetic of your event.

Tables and Chairs: Depending on the event, you might need various types of tables—round, rectangular, or even cocktail tables for a more casual vibe. Chairs can range from simple folding chairs to more elegant Chiavari chairs for formal events like weddings.
Consider Table and Chair Rentals
Lighting: The right lighting can set the mood for your event. From fairy lights strung across the ceiling for a whimsical wedding to professional stage lighting for a corporate presentation, the options are endless.
Audio-Visual Equipment: For corporate events or concerts, you might need microphones, speakers, and even projectors. Make sure to consult with your tent rental company about the power requirements for these.
Dance Floor: If your event involves dancing, a portable dance floor is a must. These can be customized to fit the size and theme of your event.
Why Choose JDS Party Rentals
At JDS Party Rentals, we offer a wide variety of tent options to suit any event. Our tents are cleaned and sanitized before each use, ensuring a safe and pleasant experience for all your guests. We also offer a range of additional rentals like tables, chairs, and audio-visual equipment to make your event truly special.
So, if you're in the Detroit area and planning an outdoor event, remember that the right
tent rental
can make or break the experience. Choose wisely, and don't hesitate to contact us at JDS Party Rentals for all your tent rental and additional
party rental
needs.
Affordable Event Rentals and Party Rentals in Metro Detroit
JDS Party Rentals is Metro Detroit's up and coming event rental experience provider offering unique solutions for everything from personal parties to corporate brand activations. JDS Party Rentals provides photo booth rentals, backdrops, table rentals, chair rentals, and even tent rentals for you party or event rental needs. We've had the opportunity to work with wonderful clients from the Girl Scouts of America, City of Detroit, and the Delta Theta Sigma Sorority to the Detroit police Department, Lakeshore School District, the Sigma Gamma Rho Sorority and even the IRS. That's right, we have amazing clients and you could be one of them!